The 3 Reasons Entry Level Oilfield Positions Pay More
The 3 Reasons Entry Level Oilfield Positions Pay More
Posted by Chloe Kwon
On March 11, 2016

Notice: Undefined variable: count in /home/petroed/public_html/wp-content/themes/specular/includes/view/blog/single-fullscreen.php on line 29
Comments
There are not many industries where a worker with little more than a high school education can make $100,000 a year, but according to BLS (U.S. Bureau of Labor Statistics), the oil and gas worker indeed makes $108,000 a year on average.
So what contributes to the unparalleled wages entry level workers can earn in the oil and natural gas industry?
Challenging Working Conditions
In part, it may be attributable to working conditions. Some oilfield jobs might require workers to live in remote areas or out at sea for weeks or months (i.e. North Dakota or Gulf of Mexico), or might potentially face hazardous conditions (although the advance of technology and enhanced safety regulations have enabled the work to be safer and more efficient).
Prerequisites for many entry level Oilfield PositionsYou are at least 18 years old with a valid driver license (A plus if you have a Commercial Driver's License (CDL) and capable of driving a truck)
You are reasonably physically fit and can perform physical tasks when asked. If you have a serious health issues, this industry might not be the one for you
You can be medically cleared to operate machinery or work long hours
Extensive travel and potential relocation
The entry level oilfield worker must be willing to go where the demand for workers is. At times this means long runs in the field working at sea or international locations. Workers who are flexible and willing to endure tough travel and/or long-term international assignments will be compensated for their commitment.
Potential career options
Here are some of the oil and natural gas occupations that you might want to explore (source: Bureau of Labor Statistics: BLS). Below you will find an interesting table of employment, wage, education and training data from 2010-2011, but similar data points hold true to 2016. The source data can be found here.
Note that most Equipment operators and Roustabouts, Laborers, and Helpers do not need work experience or higher education as they will be provided On-the-Job training by their employer. However, with a Bachelor's degree, the median annual wages for engineering positions double from the wages of Operators and Roustabouts. When considering the option of higher education, one should examine the potential income as it relates to the cost of a 4 year university degree. There should be a clear and positive Return on Investment of the Bachelor's degree.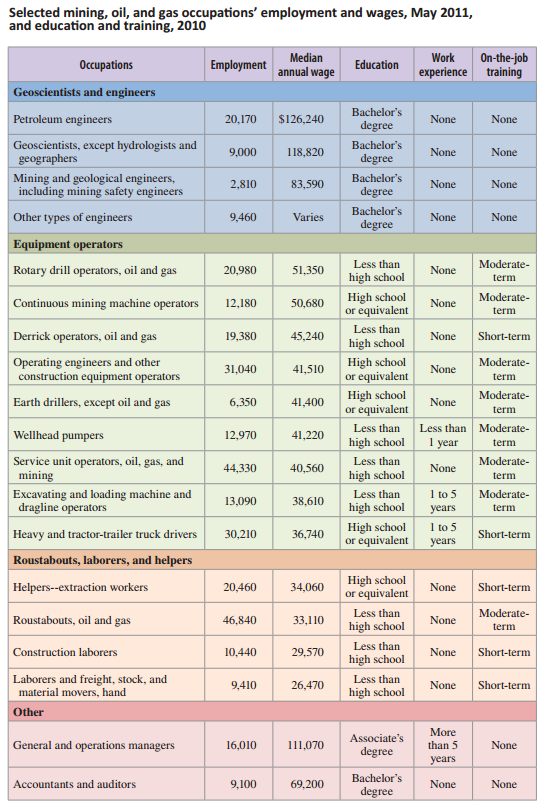 Cyclical nature of the oil and natural gas industry
Despite the oil price bust of 2015, history has proven that there is a cyclical nature to oil prices, so when the market inevitably returns, there will be a huge demand for educated and well trained workers for the industry. As a result, forward thinking school districts around the county are gearing up to educate and train the next generation of oil and natural gas worker. For example, The Houston Independent School District is planning to expand its Energy Institute High School to around 1,000 students by 2017 with a new 110,000 square-foot, $37 million facility.
Is the oil and natural gas industry the right option for you?
As with other personal choices in life, you must examine the upside and downside as well as your affinity for the work in order to make your career choice. This article serves as a quick summary of the industry and by no means should be considered a comprehensive list, but it should give you a general idea and hopefully provide some insight into careers in the oil and natural gas industry!
For an additional summary of common position descriptions and typical educational requirements please visit the link to a document created by Key Stone Energy Forum here.