Technology Solutions for Transnational Education
esperant™ is an innovative technology supporting the L&D needs of organizations with a global workforce education agenda.  The technology–delivered as a user interface–comes standard on all PetroEd® eLearning courses.  If multiple languages are available for a given course, users can set their individual language preferences at any time during a session as shown here: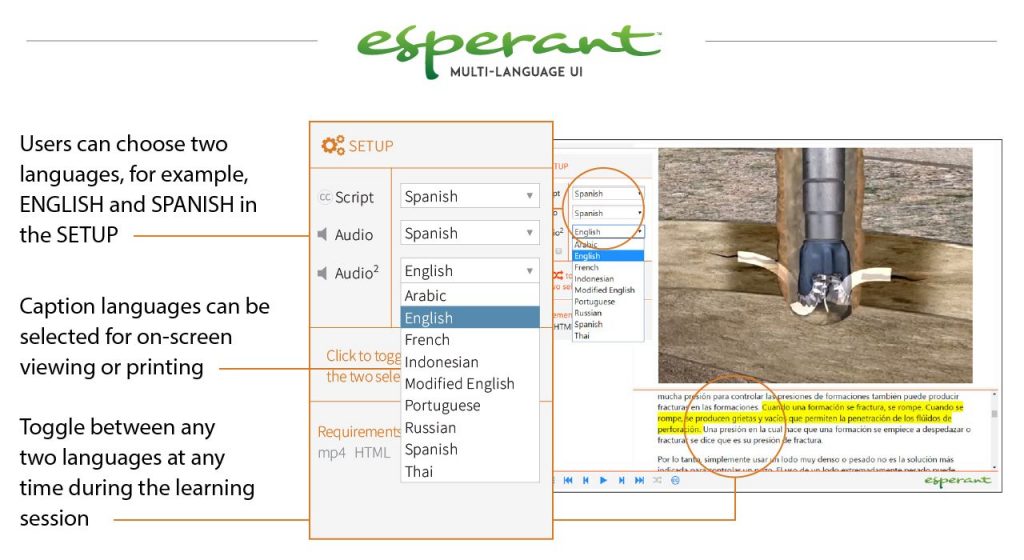 The esperant™ multi-language user interface (UI) offers a proven technology for delivering eLearning courses that support language localization.  This UI enables the learner to select any two available languages, then 'toggle' between the two while taking a course.  A screen text feature accompanies the narration — much like Karoke!
PetroEd® eLearning licenses the esperant UI and can therefore deploy content such as IADC RigPass in Spanish.  As oil and natural gas operations become increasingly global, transnational concepts in education are becoming an essential part of the engagement strategy that companies use to achieve their international growth objectives.